Capsule Filler MCF-100V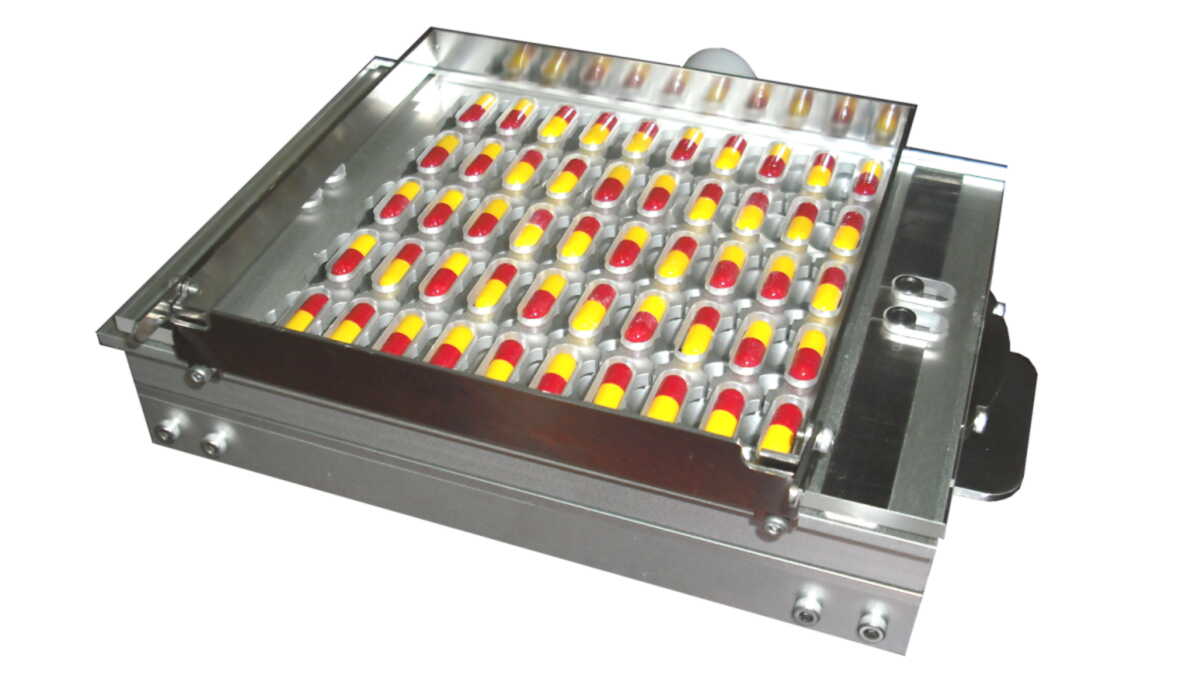 Handy and Compact Capsule Filler MCF-100V
Easy ,simple type of capsule filler
Easy to learn operation of capsule filling due to simple structure.
All necessary filling functions in,100 capsules filled at one time.
Speedy and efficient filling by new idea(Patent pending)
Vacuum cap separation quickly from capsule body, and harmless for capsule.
Optional accessories available to customers' needs
Such as "Adjustment of filling volume", "Increase of filling volume",
"Capsule number change of one time filling less than 100 pieces"
Also, custom-made optional accessories available to various needs.
Capsule Filling Process
Filling Process 1 Capsule setting
Setting each capsule by arranging its direction to hole of capsule fixing plate.
Setting fixing plate on to catching plate after adjusting random direction of capsule to hole of fixing plate.
All capsule bodies dropped through small hole of catching plate, and fixed into body plate.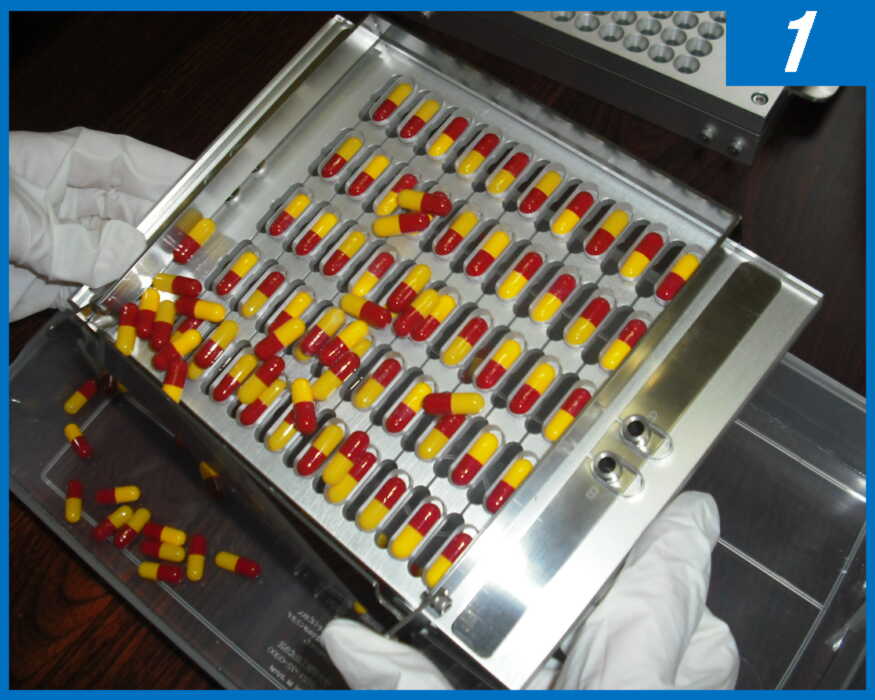 1.Fix 50 pieces of capsule into capsule fixating plate.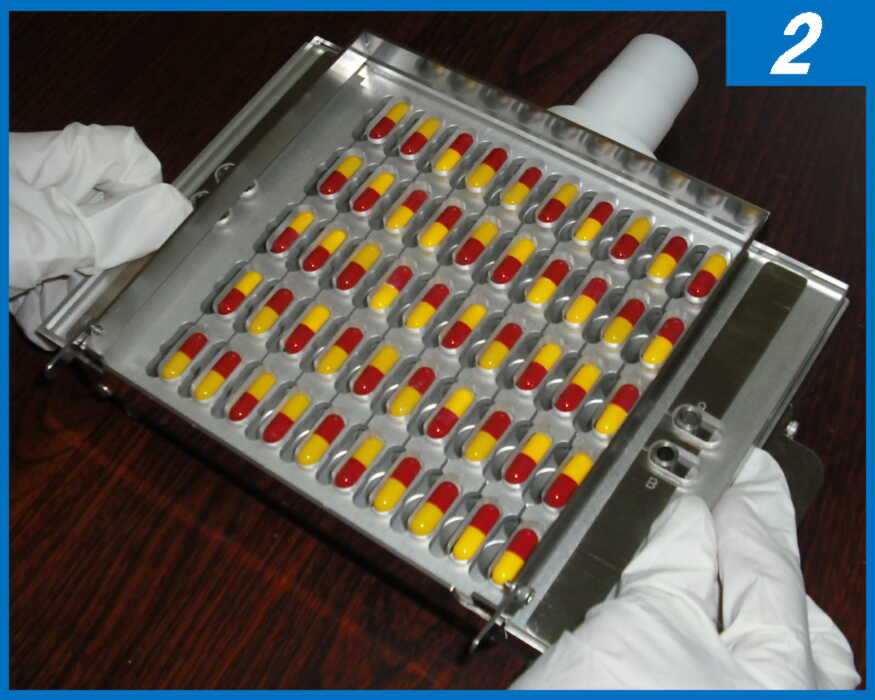 2.Set fixation plate on the catching plate on body and pull plastic plate.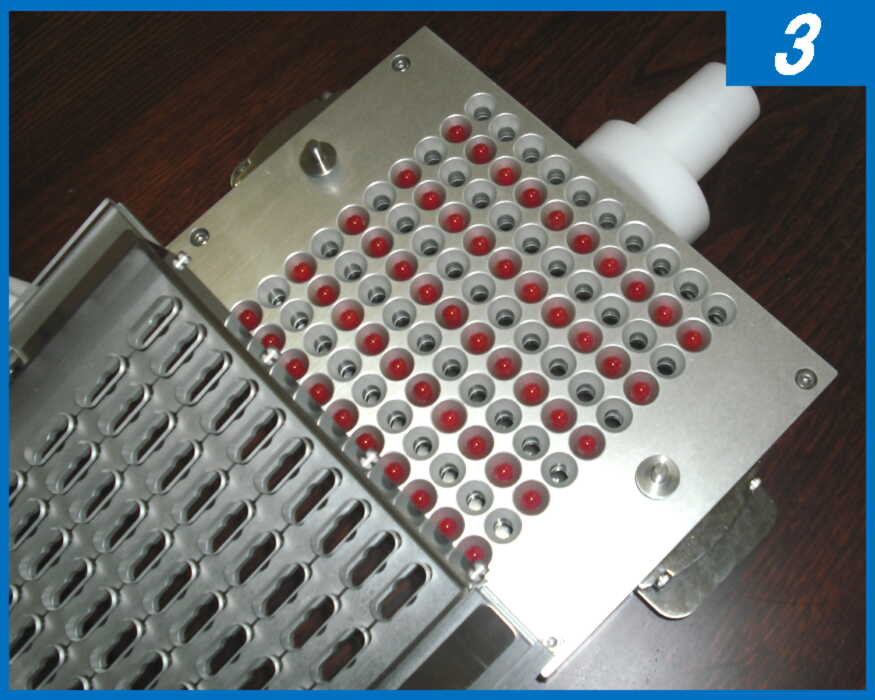 3.All capsule caps set up on catching plate on body.
※100 Capsules set by two times of above operation.
Filling Process 2 Cap separation
Separation of caps from capsule bodies.
Vacuum separates 100 caps from capsule bodies at one time.
Suction and separation! This is quite new idea for cap separation.
Due to vacuum suction, free from any damage to capsule, such as dent, distortion and transformation.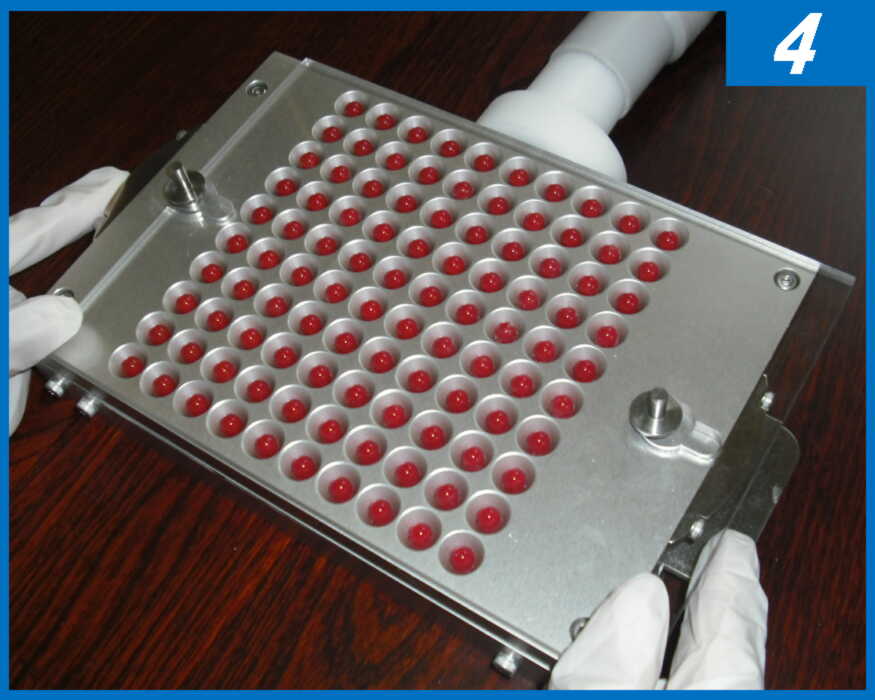 4.Put cap cover plate on catching plate.165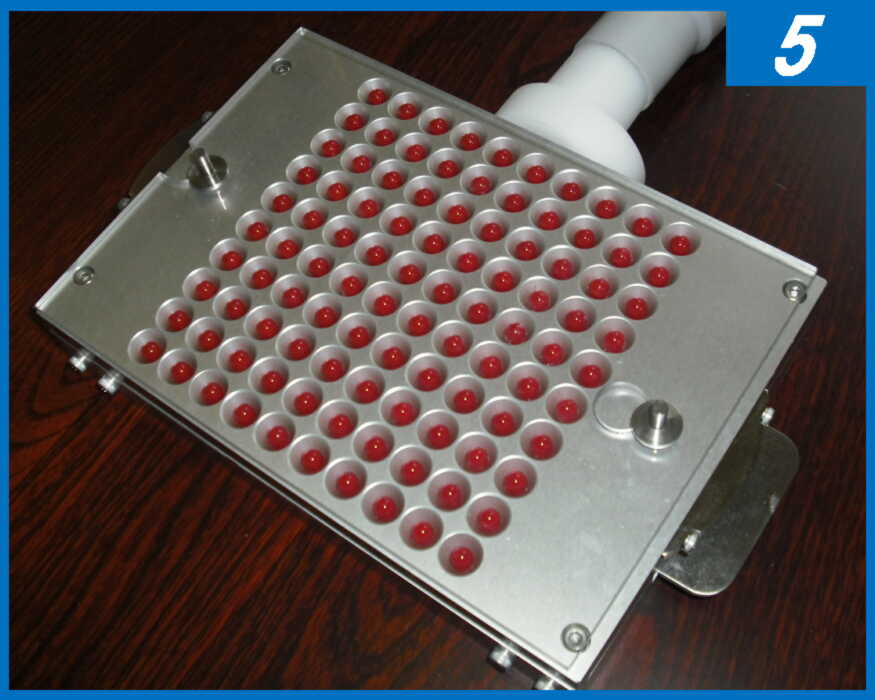 5.By vacuum switch on, caps are quickly separated from capsule bodies.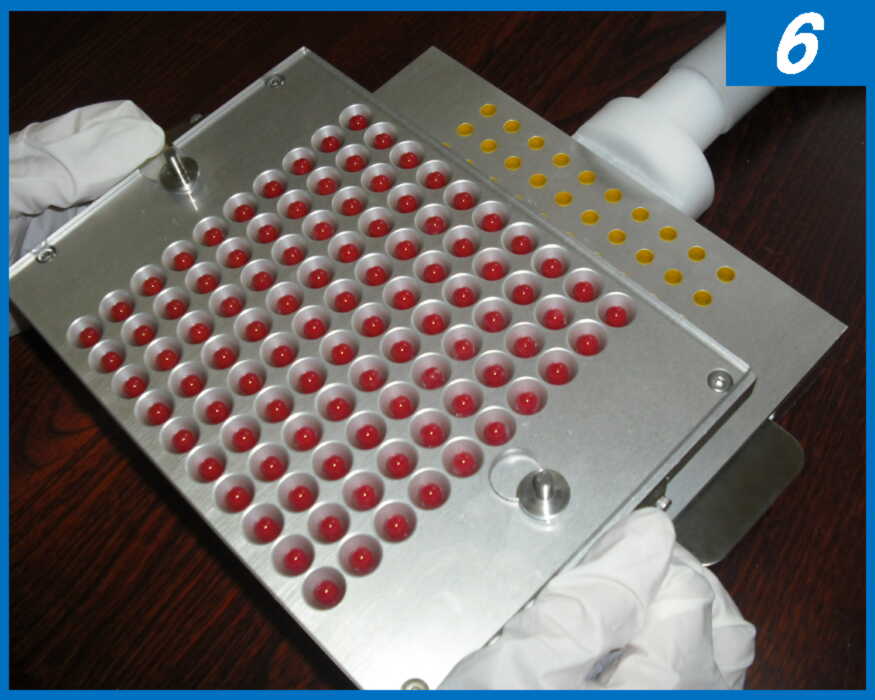 6.Take off catching plate from body plate on the body.
Filling Process 3 Powder filling
Filling powder material into capsule bodies
Using scraper and tamper, fill same volume of powder into capsule bodies.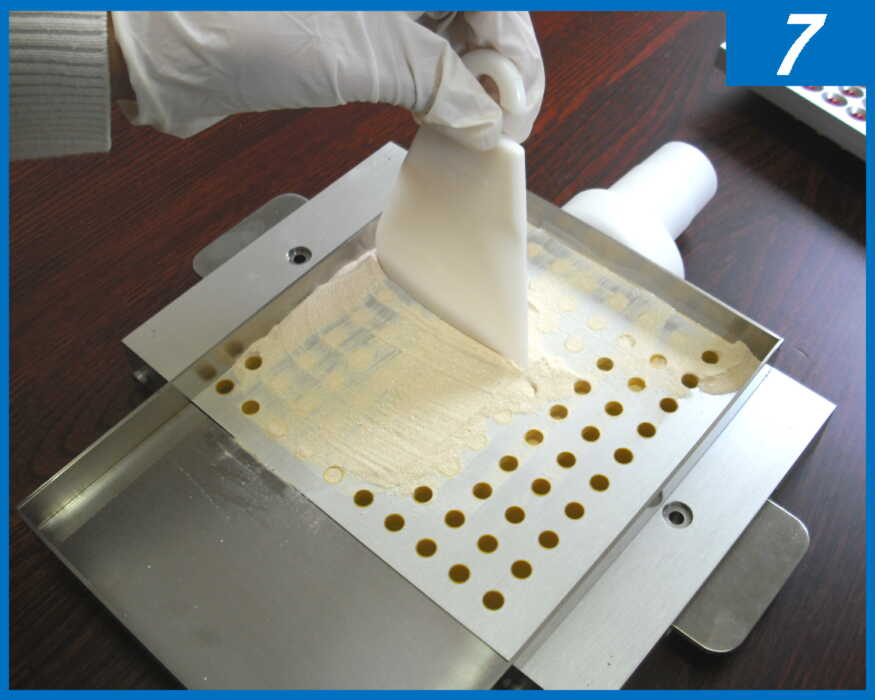 7.Put powder tray on the body plate and fill powder in capsule body with scraper.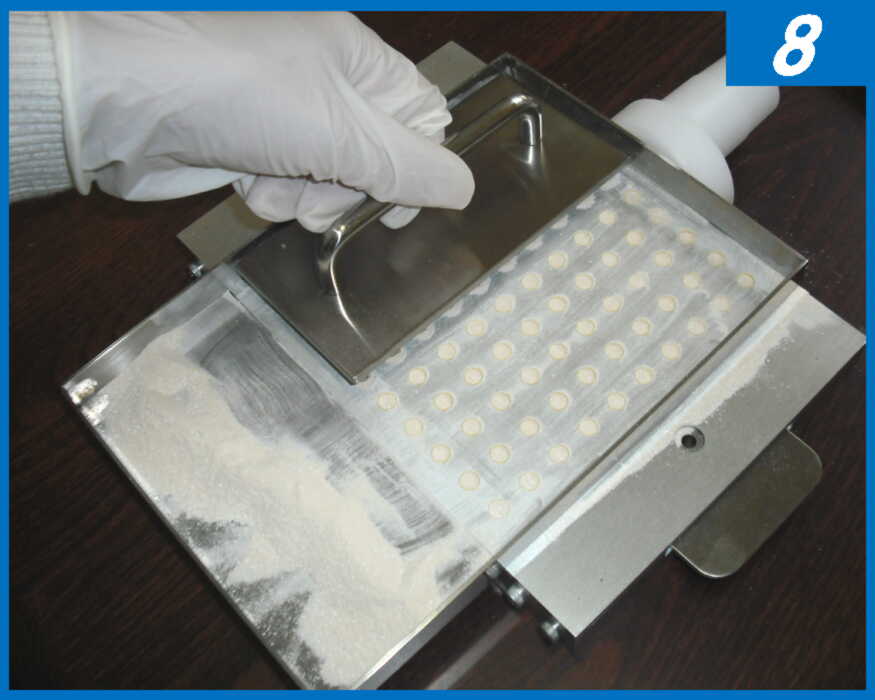 8.After filling, push body plate by tamper and fill powder once again.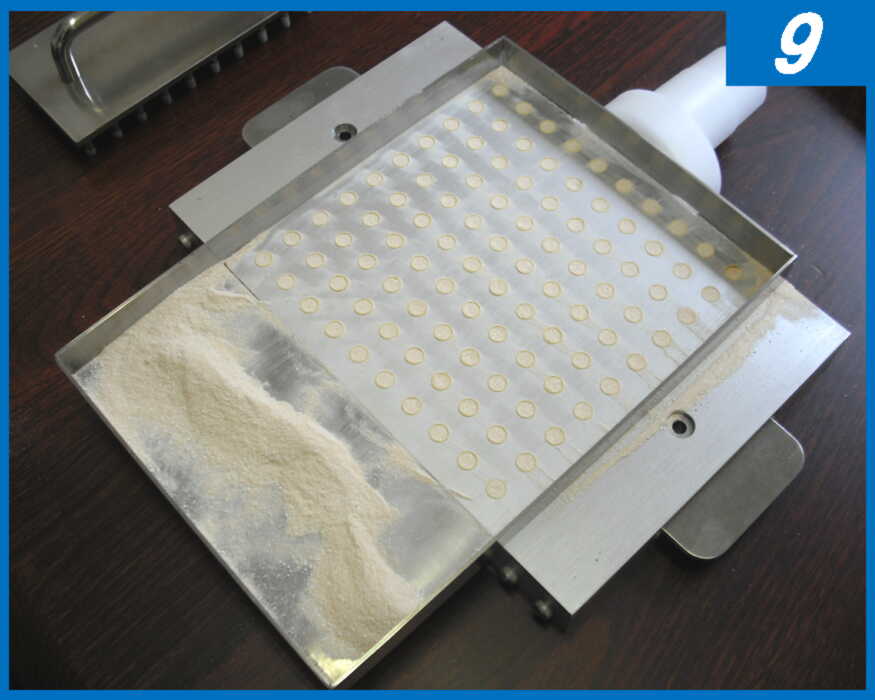 9.Fill powder fully and completely up to plain of body plate.
Filling Process 4 Cap closing
Closing capsule bodies with caps
Fit caps to capsule bodies and fix all capsules to body plate.
Free from capsule hangnail and collapse thanks to accurate center pin positioning and adequate stress structure.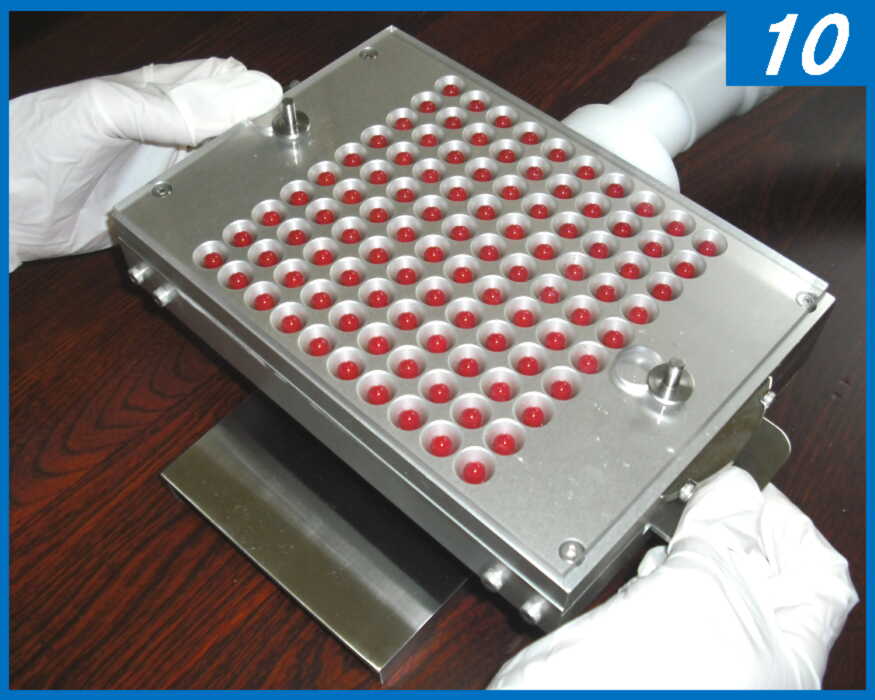 10.Lift the body up and put on base stand.
11.Press the catching plate and lock capsules into body.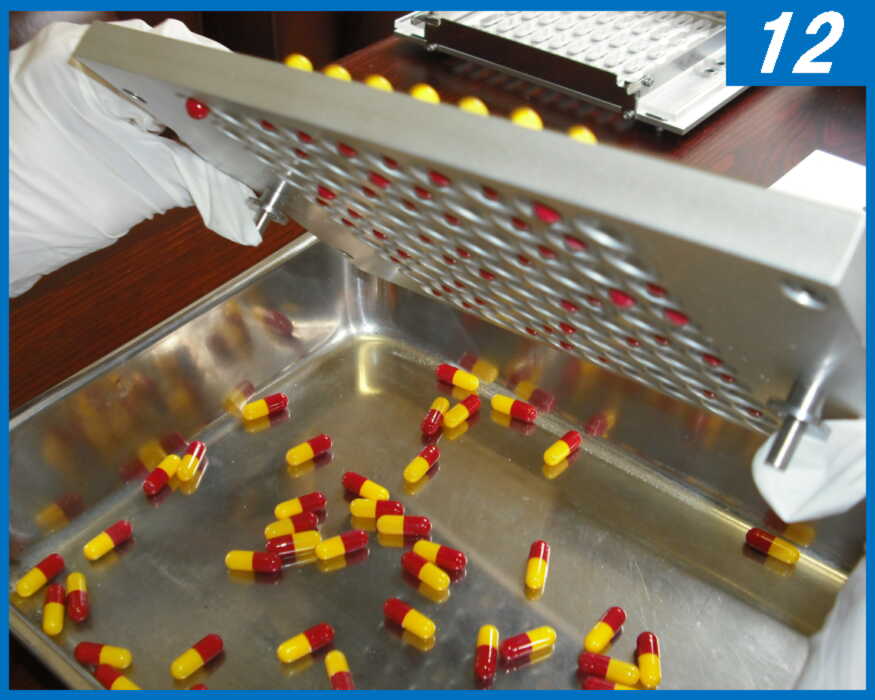 12.Take off all capsules from catching plate and 100 pieces of capsules are completed.
Only 3 minutes for filling 100 capsules one time!
*Vacuum
Please use standard cleaner with suction work rate 200W or more.
Do not use other type of cleaner, such as handy, stick, shoulder, steam type and so on.
*Workshop
In case of filling operation, please put this filler on level place without bump. Some opening under filler body causes sometime air leak and defective cap
separation.
Various optional accessories
Various optional functions available to reply to customers' own requests for filling operation!
For free adjustment of filling volume
Volume adjusting plate
Filling volume can be adjusted optionally by using 4 adjustment bolts on this plate.
After filling powder in this plate adjusted filling volume, put it on MCF-100V body and fill into capsule body.
※2 kinds of power filling is available by this plate.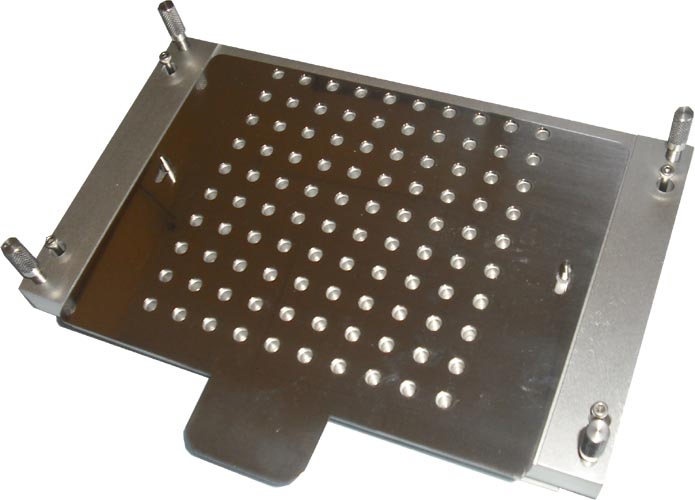 For possible increase of filling volume
Volume increasing plate
By changing base plate, make capsule position up to plain of body plate lower than usual and increase filling volume.
Two types are available to increase filling volume, one for 1mm lower and another for 2mm lower.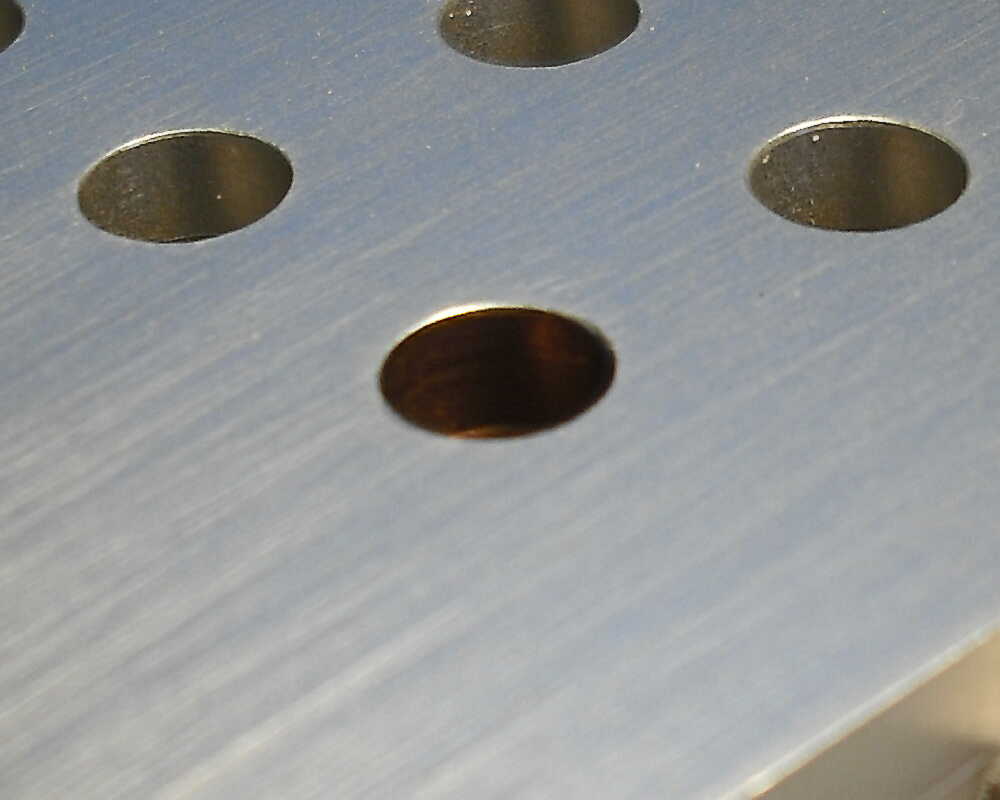 Capsule standard position(reference)
Capsule standard position(reference)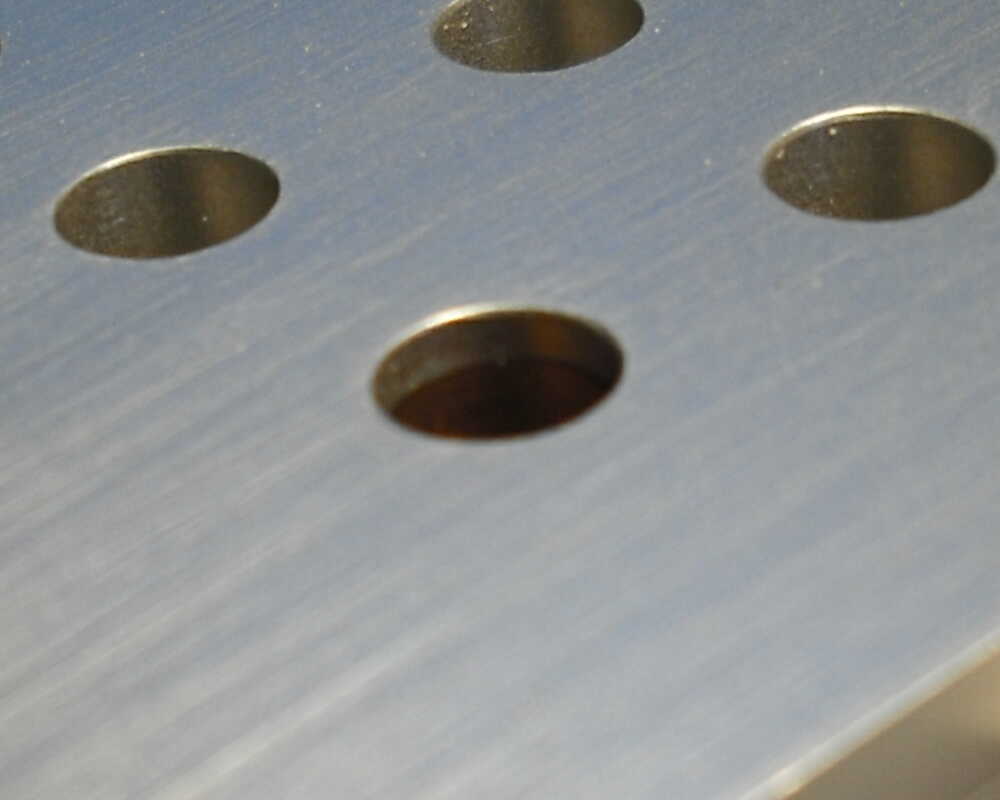 Capsule position by volume increasing plate (reference)
Filling volume estimate
| | | | | | | | |
| --- | --- | --- | --- | --- | --- | --- | --- |
|   Capsule size | #00 | #0 | #1 | #2 | #3 | #4 | #5 |
| standard plate | 0.95 | 0.72 | 0.54 | 0.37 | 0.30 | 0.21 | 0.13 |
|  -1mm plate | 1.00 | 0.72 | 0.54 | 0.40 | 0.33 | 0.23 | 0.15 |
|  -2mm plate | 1.05 | 0.77 | 0.57 | 0.43 | 0.35 | 0.25 | 0.16 |
For decrease of capsule filling numbers one time
Number change plate
By changing body plate and set plate(fixing plate & catching plate),optional capsule filling numbers available, such as 14pcs, 28pcs, 60pcs and so on.
※This is custom-made plate as per the filling numbers from requested from customers.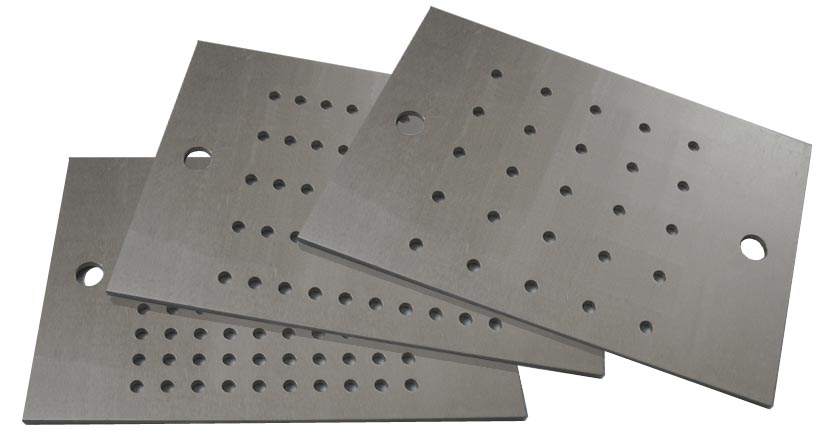 Specifications
Simple structure, easy cleaning and tool-free dismantling! Changing capsule size parts, filling available for different size capsules!
Dimensions(approx.)
W:20cm、D:15cm、H:5cm(Weight:1.5kg)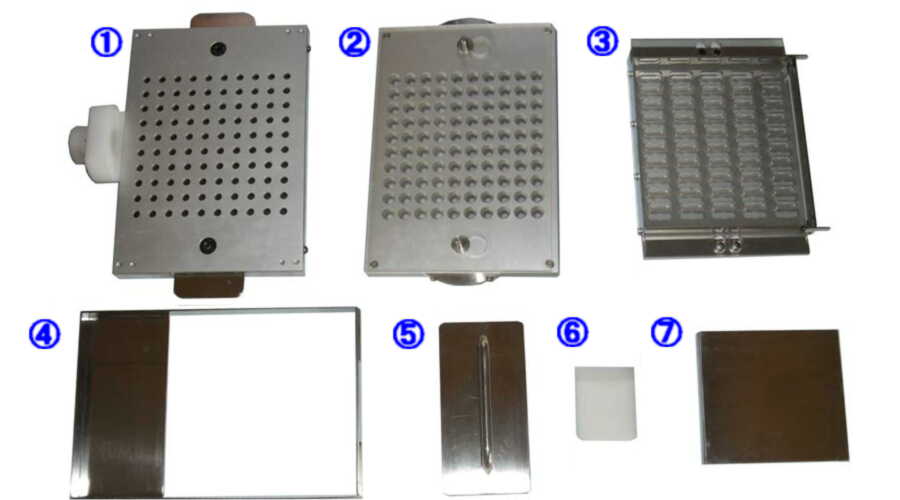 MCF-100V Structure
Body plate(

※

)
Catching plate(

※

)
Fixing plate(

※

)
Base plate(

※

)
Base frame
Base stand(

※

)
※Size changing parts
Contact
MINIYA FACTORY Co., Ltd.
Address:〒402-0217 9480-1,Dousimura,Minamiturugun,Yamanashi
Prefecture,Japan
e-mail:sato@miniya.co.jp
Introduction
We,MINIYA FACTORY,based on manufacturing mold of hard capsule, have been developing labor saving machine for food and drug field.
Recently, we are developimg our own characteristic products, such as Compact Capsule Filler, Capsule Counter, Capsule Inspection Filter and so on.
Also, designing and manufacturing custom-made machine required by our customers.
Thanks to our longtime experience and up-to-date equipment, MINIYA FACTORY surely meet various requests for not only capsule filling machine, but also manufacturing related parts.
For domestic customers, we will propose our own products answering customers' needs.
And for overseas customers, exporting Handy Capsule Filler MCF-100V and developing further export models.
We are looking for distributors of our products in overseas market!
Corporate Profile
Company Name
MINIYA FACTORY CO.,LTD.
Representative
Kentaro Sato, President
Address
9480-1,Dousimura,Minamiturugun.Yamanashi Prefecture,
402-0217Japan
TEL
81-544-52-2568
FAX
81-544-52-2271
Website
http://www.miniya.co.jp/
Capital
3,000,000yen
Founded
November,1965
Employees
8
Main Business
Development of labor saving machine for food and drug field
Sales and repair service of capsule filling machine
History
November,1965
Sato Factory founded and started capsule business.
Capsule mold manufacturing, sales of Loose piece collector
and Capsule air transporter.
May, 2000
Changed the company to MINIYA FACTORY CO.,LTD
September,2004
Kentaro Sato succeeded to president of company
November,2009
Easy and simple type of Capsule filler MCF-100V released
June,2010
Authorized research and development project by Public Institute
「High accurate selection of defective hard capsule」
July,2011
Started exportation of MCF-100V(Export Model) to Korean market
November,2011
Business approval of reasearch and development by local
government
「Desktop type of full automatic capsule filler」
May,2012
Started exportation of MCF-100V(Export Model) to Taiwan market
Now, we are looking for our distributors in overseas market.